Maybe it's the northern air that's slowly settling over the Mid-Atlantic, maybe it's the lingering high from the cross-stitch convention... Whatever it is, UFOs here in Sparksalot Land are quickly becoming a figment of the imagination.
Yesterday, I put the finishing touches on a baby blanket I made for a good friend. I'd started the blanket... oh, sometime in January '06. It was a simple blanket: print fabric backed with quilting. All I had to do was secure the back to the front with some hand-quilting. I started out by measuring and pinning where I'd want all the little knotted tassels to go (leaving a 1-inch tail on either side of the knot, creating a nubby surface on an otherwise smooth cotton blanket). I got maybe 1/8 of the way into this finishing before giving up (the baby came, I no longer felt the pressure of a deadline, and the weather was turning warmer). So, I forgot about the blanket, eventually removing all 159 pins so that I could fold and store the blanket without risking injury.
The cat slept on the blanket. I buried the blanket under knitting books. I moved the blanket upstairs, I brought it back downstairs. I figured if I could see it, I'd want to finish it sooner. Then I figured if I couldn't see it, I'd be more likely to want to see it and finish it sooner. I eventually stopped thinking about the blanket and started making more baby things (I'm at that point in my life when most of my friends are family-thinking--there's another baby on the horizon, and then--after that--I'm certain that another friend will get pregnant because, well, it's all part of her plan).
Then I went away with my Mom for a few days. I lamented about UFOs in my stash, and mentioned the baby blanket. She practically yelled at me in gross disbelief--she couldn't believe that I'd not yet finished it! After all, what was left, just some little knots?
So, when I got home from Hershey, I dug out the blanket and ripped all the knots out--all 23 of them, each carefully and precisely placed, knotted, mesaured, and cut (HELLO, anal retentive!). I was going to throw the blanket in the wash, fluff it, and then give it to the 7 month old baby when I stopped myself and asked, "WWMD?"* And so, I began to hand-quilt one aspect of the pattern repeat (ladybugs!), which theoretically was a HELLUVA lot more stitching, but in actuality, went a lot faster because there weren't so many stops and starts.
I finished the blanket yesterday, threw it in the laundry, fluffed it, and then presented it to a sleepy baby last night. Even though she was crying before I left, I'm pretty sure that this morning, Little Lilia is doing her best to make the blanket her woobie.
With the blanket in the laundry, I pulled out a skein of the
Lion Brand Landscapes
(in Country Sunset) and started on the replacement mitten for my mom. Last year, I made my mom, my sister, my (now) ex-sister-in-law-to-be (another story, another day), my sister-in-law, and a few other chicks I'm related to a set of mittens (with or without the flappy top) and a tubular scarf (I actually regifted one I'd received to my sister-in-law...) in various Landscape colorways. It was a great, quick-knit, gift--I could do up a pair of mittens in less than three hours (less than two if I didn't include the flappy top, making the mittens convertible). The tubular scarf took another couple of hours, and then, voila! It's a gift! (The mitten pattern is loosely based on the SnB Nation's Valentine mitten pattern, though by the second pair, the pattern was practically inherent.) Anyway, mom lost one of her mittens in January, at Ikea (I think), and was distraught. She told me, "I'll buy the yarn, I'll make the replacement! Just show me how!!!" I figured it would be quicker for me to just knit her a replacement and set about starting that myself...
Fast forward to last night. I cast on, did the 12 rows of ribbing, increased, bound off for the thumb, cast on to make up for the bound off thumb, finished the hand, picked up stitches for the thumb, knit the thumb, decreased and pulled the yarn through the thumb, and then went home (our neighborly LOST viewing was done and I was tired), picked up stitches for the flap, and am now 1/2 inch away from decreasing for the fingertips. This mitten is practically done. All I have to do is pick it up tonight and finish it. JUST IN TIME FOR THE CHILLY WEATHER.
If I were participating in the current round of PhillyKnitter's Secret Pal, I'd totally have a final gift for my pal. But, you all know how I DREAD the post office...
And in news of an almost FO, why I do not like Inox needles--they put holes in my fingers! Two years ago when I made my first ever hand knit sock, I used Inox needles and before I was done with the first sock, my finger looked like this: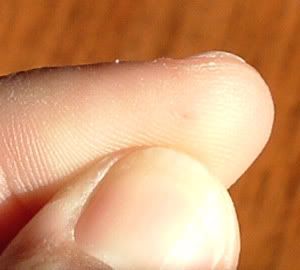 I figured it was because I knit the first sock tight, and I mustered through the second one with a bandaid... I then used Addis and bamboo dpns for socks, leaving the cursed Inox in a dark corner. Then, I lost a US 2 dpn and while I tried to knit in the round with 4 needles, I wasn't comfortable with the way the pattern was distributed on the needles (I prefer equal stitches on each needle, whether it's two circs or 4 of a 5 dpn set). So, I had two choices--wait for the rogue US 2 to show up, or bring out the Inox. I brought out the Inox and resolved that this time,
this time
my knitting would be loose and light. Not even halfway down the leg of the second Red Hat sock, and I've got a deeper, more pronounced hole in my finger. SOMETHING'S GOTTA GIVE, HERE, NEEDLES!
I was prepared to soldier on with the sock, buying two sets of Addis at the next yarn shop I visited, when suddenly... The rogue US 2 appeared out of my suitcase. And here I'd thought I'd lost it at
Anj's
place during the last fiber night. Reunited, bamboo, and it feels so good!
Tonight's finishing frenzy: the mitten; the hem on a pair of slacks I picked up while shopping with Mom and Sis last weekend. Oh, yeah, a pair of pants that are in a size I've not worn in probably... TEN FUCKING YEARS. I'm not quite skinny, but gawd-damn am I starting to look mighty fine.
*
"What would Martha Do?"